I spent the better part of this week attending an event in Boston, Massachusetts, hoping to improve my skills as a blogger for Microsoft Dyanmics GP. Since the event was located in the Hynes Convention Center, I chose to stay at the attached Sheraton Hotel. It's a lovely hotel, and if you are going to the Convention Center, it's amazingly convenient since they're attached. They are not only attached to each other but also to the Prudential Center, which contains a shopping mall. While strolling through the mall, I spotted it. What is it? The new Microsoft Store!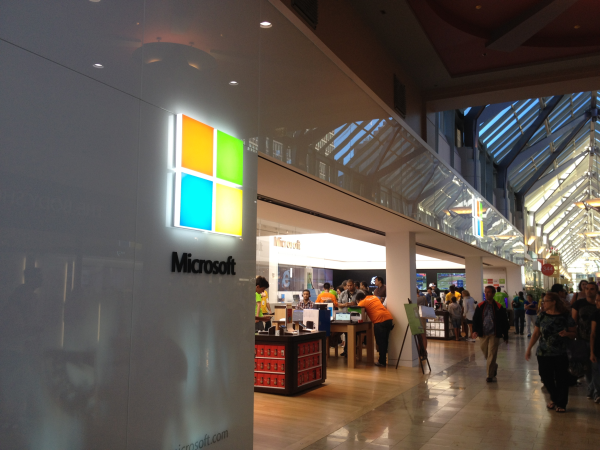 The store itself is quite lovely, bright and charming yet warm and inviting. Maybe it's the almost all-glass front or the openness that seems to eliminate the line between being in the mall and being in the store. Maybe it's the fact that multiple Kinects and Xboxes allow for on-site fun and entertainment. I so enjoyed watching two young children playing against each other but was even more tickled by the grownups waiting to play with the Kinect themselves.
This is Microsoft's 23rd store to open, but it is considered the flagship store. I was fortunate to be able to spend time talking with store Team Member, Carlos Solorio. I asked Carlos about the buzz around the upcoming Microsoft Surface, a new tablet PC. With a huge grin, Carlos said it feels like every ten minutes someone asks about it. I must admit I was secretly hoping they would have a Surface for me to look at, hold and play with.
I CANNOT WAIT for the Surface to be released!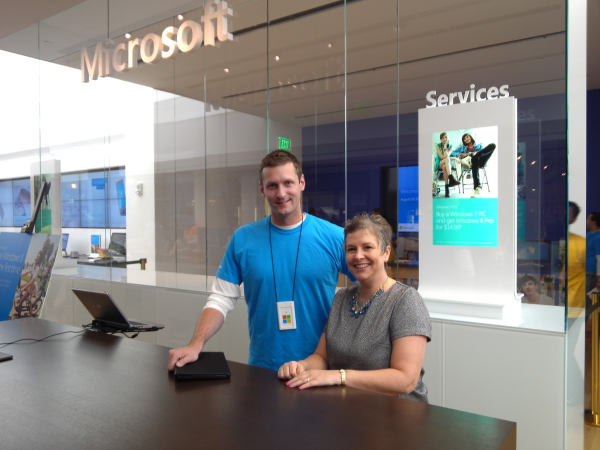 Ty Hapworth, the store Leader was still so excited about the grand opening less than a week earlier. Apparently by missing the opening, I missed NBA All-Star Celtic Paul Pierce and Grammy-winning artist and actor Lenny Kravitz. I missed Lenny? NOOOOOO! (Side note: Lenny K was featured for two months last year on my "Belinda song of the month," which is nothing more than me overplaying a song for a solid month.)
Ty was also excited that it was at his store opening that Microsoft chose to release their new logo, which I love!
So if you find yourself in Boston, stop by the Shops at Prudential Center and visit Ty and Carlos at the Microsoft Store!